Baxter Honors Recipients of Ninth Annual Young Investigator Awards
Nurturing the next generation of STEM talent is a key part of Baxter's effort to promote innovative research aligned with our mission of saving and sustaining lives.
Baxter showcases that commitment by honoring 13 graduate students, postdoctoral fellows and Baxter employees with its annual 2017 Young Investigator Awards. The Young Investigator Awards seek to stimulate and reward research applicable to the development of therapies and medical products to help resolve critical needs.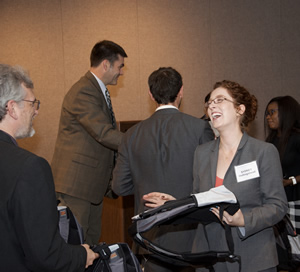 The Young Investigator Awards, now in its ninth year, have recognized more than 70 young scientists and engineers since its inception, some of whom have gone on to participate in Baxter's Technical Development Program – a two-year training program focused on developing high-potential, entry-level technical professionals. This was the first year that two internal winners were recognized.
Young Investigator Award applicants were chosen in a variety of product categories, including renal, surgical care and fluid systems, after demonstrating their practical understanding of the therapeutic areas. Award winners were selected by Baxter employees, who evaluate candidates based on several criteria measurements, including the quality of the research itself and whether the candidates were primarily responsible for their own research that aligns with acute and critical care medical technology.
Six first-tier award winners received a $2,000 prize and showcased their projects via a presentation to Baxter employees. Other award recipients received a $500 prize. 
2017 First-Tier Winners
Qinglin Su, Purdue University – A Systematic Framework for Resilient Product Quality Control Design and Risk Analysis
Samira Musah, Harvard University – Human Glomerulus-on-a-chip established by directed differentiation of induced pluripotent stem cells in mature kidney podocytes
Sydney Hollingshead, Purdue University – Elastin- and Mussel-Inspired Soft Tissue Surgical Adhesives for Internal Application
Umer Hassan, University of Illinois – Point-of-Care Biosensor for Individualized Monitoring of Sepsis Molecular Biomarkers
Jason Mantei, Baxter Research & Development – Analytical Center of Excellence – Developing Sterilization Challenges by Design: Understanding Biofilm Dynamics with Correlative Microscopy Techniques
Lindsey Wegiel, Baxter Research & Development – BioPharma Solutions – Influence of Process Conditions on Spatial Distribution of Individual Vial Heat Transfer Coefficients in Freeze Drying